Featured Teams: Team CYRUS Racing
By: Arnel B. Santos-Ynigo
I was able to catch-up with this young privateer team at practice. Early on you could
see their determination, discipline and their constant drive to improve. Judging from
their lap times it looks like a new bench mark will be set for beginner 110 and 125.
Its gonna be quite an interesting battle to watch when this guys mix it up with Team
Motofix the defending champs of the 2nd leg.
I was able to interview their President Keken Cabahug who is also their ace rider, this is how it went.
1. UT: How did you get started with circuit racing? What was your racing background?
KC: Actually this is my 1st time to participate in underbone circuit racing, watching
the 1st and 2nd leg really inspired me to give it a try. Cyrus Racing team has a
drag racing background so basically we are still beginners in this sport.
2. UT: What categories do you plan to participate?
KC: We have 5 riders for CYRUS Race team, all of us will be joining
Beginner 110 & 125. There is also a possibility that we will
have 1 entry for Novice Open.
3. UT: For the 3rd leg what preparations did you make? How long have you been practicing?
KC: Our team has been practicing for a month almost everyday. Our preparations
were basically to get very familiar with the track because all of our riders have
drag racing background and we are new to this concept. We started preparing early
we started right away after the 2nd leg, I bought an X1 and had it broken in during
our ride to bogo fiesta. so far I have crashed 5 times already at practice but I think
its all part of the sport.
4. UT: Can you give us a brief introduction about your club?
KC: CYRUS basically means Cebu Young Riders United Society, it started 1989 when yamaha chappy's
were the IN bike. our club is mostly involved
with Drag Racing, but when underbone circuit racing came out we decided to give it a try.
we are also involved in motorcades, bike shows and out of town tours.
5. UT: What is you game plan for the 3rd leg?
KC: Actually all I plan to do is just enjoy the race. Ride safely, get a feel of things on the
track but I will do my best to win.
6. UT: Do you have any sponsors that you would like to thank?
KC: CYRUS race team would like to thank our generous sponsors
- BIO Troff
- Stick On Me
- Yo.u Resto Bar
- 93.9 I FM
- Skinmate
- Power Rocket Battery
- DCS Express
- JJB Racing Motor Parts and Accesories
- Mandaue Tri-star
- ELZ GAS lubes center
- Cheeth Rubber Sandal's
- Julie's Bakeshop
( Keken Cabahug, Jes Louie Vega, Manuel Lim, Ronald Intas[not in pic] )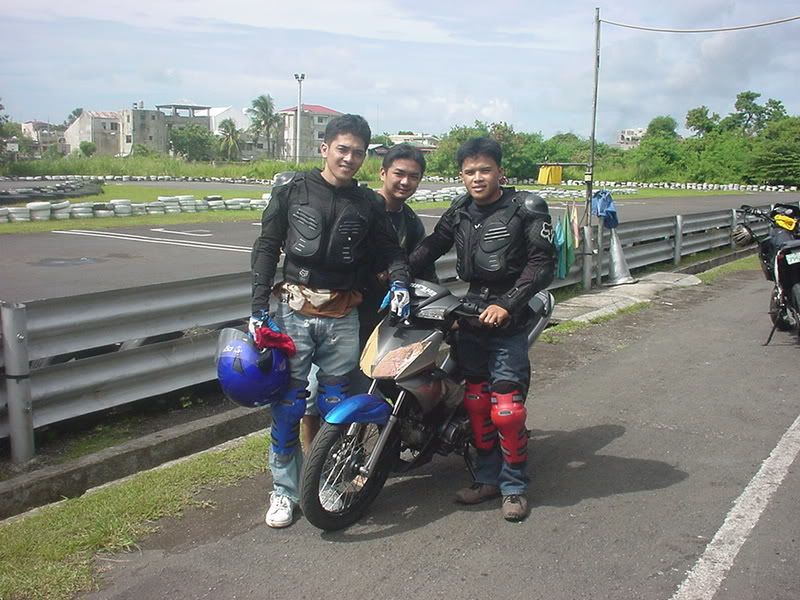 CYRUS Race Team ACE RIDER Keken Cabahug