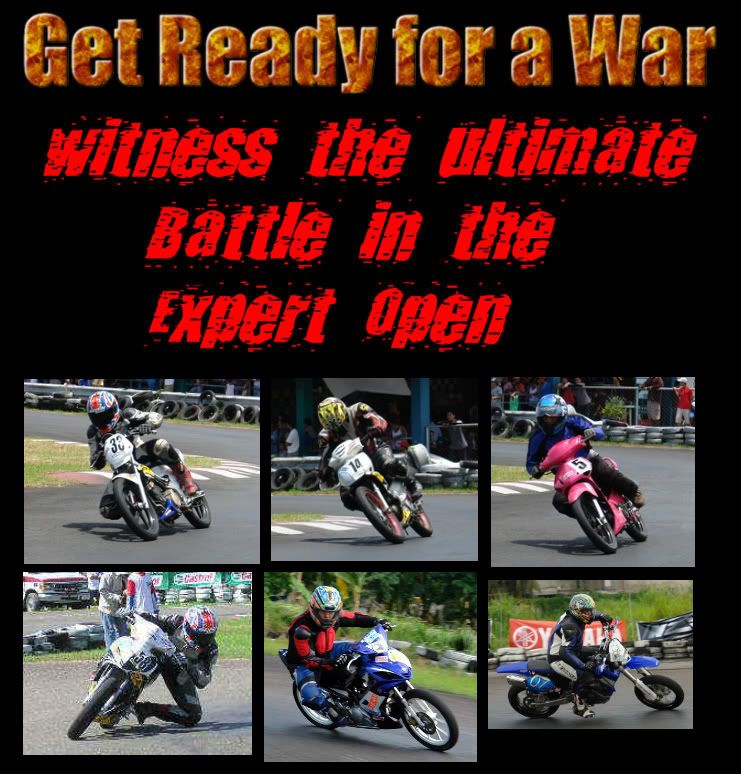 Get Ready for War on the 3rd Leg
By: Arnel B. Santos-Ynigo
2 Weeks to go and its race day. Witness the ultimate battle on the Expert Open.
July 20, 2008 at KARTZONE be there as the best riders of Cebu light-up the track.
All eyes will be on the gladiators fighting for the crown to become Cebu's Underbone
Circuit Racing King.
Based on the recent developments for the past few weeks, looks like the Expert Open
is gonna be off the hook. Based on the practice runs riders are nearing 32 second lap times. The teams involved have regrouped and are going to be coming out strong. One thing is for sure its gonna be an all out WAR !!!
Zandro Fajardo has made some adjustments on his Sniper135 very eager to rumble. Arnel Fajardo will be riding a powerfull Yamaha X1. Andrei Ursal is making a comeback on the expert open on his Raider150 tuned by Insik Flores. As for Seth Capuras of Team WaveX will they also make the switch or will they duke it out with their Pink Lightning Honda Wave. Jessie Duhig will also be ready to mix it up.Then last but not the least Bobby "The Blitzkreig" Mencias the main man of the 2nd leg. Can he repeat the double victory? He set the bar at 33 seconds on the 2nd leg, will he raise it to another level at 32? Be there and witness history. July 20, 2008 at Kartzone. Bakbakan Na !!!