by: Arnel B. Santos-Ynigo

Team X-Racing has always been associated with Drag Racing, they are one
of the most dominant and successful teams of this sport. They are know
all throughout Visayas and Mindanao for their incomparable passion and
drive for excellence in this sport.

In the advent of the Circuit Racing explosion they were hesitant at first
to join in the mix because of their lack of experience. But with the
leadership of Eyoy Solon and in collaboration with Insik Flores and
Mario Borbon, X-Racing has made one of the most impressive debuts in the
2008 racing season. They bagged an impressive double victory for the 110
and 125 Beginner superstock category in their first race. With the dynamic
leadership of Eyoy Solon and his impeccable skill as a coach this team is
one of the top contenders in the 2009 racing season.

They are virtually unstoppable in the Automatic category and they are also
a steady fixture on top of the beginner superstock category.
This team has their sights locked in on the crown and they are prepared to
do whatever it takes to be victorious.

Raw talent can give you an edge to win but combine it with extraordinary
leadership then nothing will be impossible.
The talented leader of X-Racing Eyoy Solon ( Team Manager and Coach )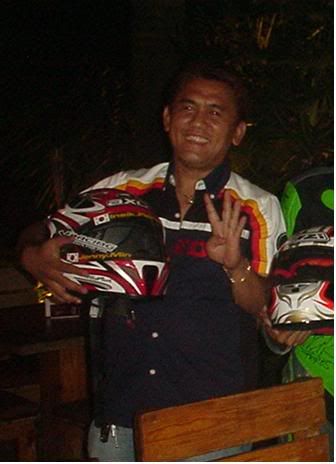 Eyoy with his top riders Mario and Insik together with Scout Tumulac of Norkis Yamaha