Remember the bike builder/designer we featured a few weeks ago with his Loud and Proud
Sticker Bombed Kawasaki Rouser 220 Street Fighter. Well Robert Jon Olivarez is back with
his another creation. This time around he goes for the Gothic look. Its a big contrast to his
previous creation which tends to scream for attention with its bright paint job and sticker bomb accents.
Now he has designed a bike like a wraith. He had the bike painted Matte Black which goes really
well with its chromed parts. It now sports a custom fabricated split seat by Motosuit. He also had
extensive body work done to the bike particularly the tail-end, the front fender and the tire hugger all of
which were custom made by Toto Mate. For the exhaust he stayed true to the Euro Street Fighter
look by having the pipe belly mounted a Tri-oval pipe by Jason Bez Muffler Shop.
Check-out the custom made split seat by motosuit.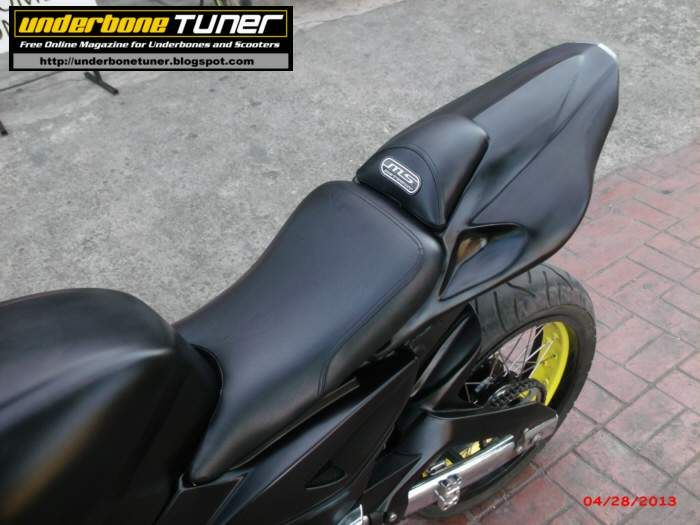 The bike is finished matte black to give it a really aggressive and clean look.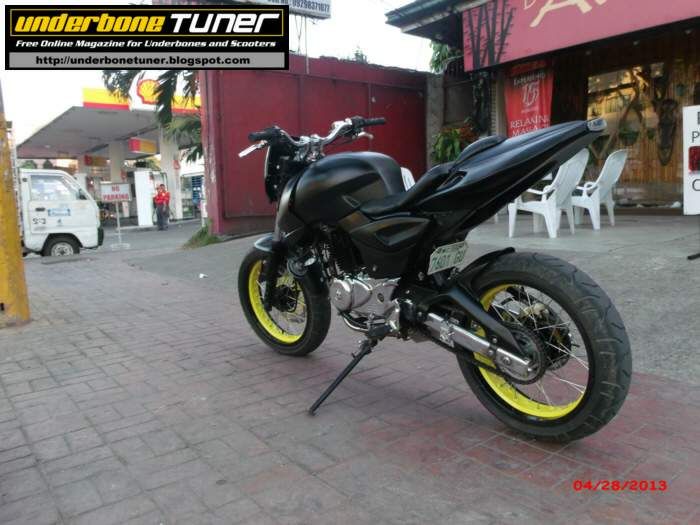 Poli Sport Headlights from Oz Racing.
Custom Fabricated Front Fender by Toto Mate.
A close look at the belly mounted Tri-Oval exhaust by Jason Benz Muffler Shop.
A close look at the custom fabricated tire hugger by Toto Mate.
A nice view of the bike at Osmena Blvd.
A rear view showing the custom fabricated rear body kit by Toto Mate.