By: Arnel B. Santos-Ynigo
Attention Underbone Racing Fans and Enthusiasts.
Just when you thought that Cebu Circuit Racing can
get any hotter. Honda Motorworld and OZRacing Corp.
brings another action packed racing event that will
set the Cebu Circuit Racing scene on fire.
Make way for the HONDA MOTORWORLD INC. AND OZRACING CORPORATION
UNDERBONE ONE-MAKE RACE CIRCUIT on May 17, 2009 Sunday 8:00am to 5:00pm
at Parkmall Mandaue Parking Lot North Reclamation Area.
REGISTRATION IS FREE. Lots of freebies and prizes. There are only limited slots
so you better register early. Satisfy your need for speed join now.
For more info. and to get your registration forms go to your nearest motorworld
outlet or OZ Racing Main.
CATEGORIES:
* Super Beginners(Bike Club Members) 110-125cc
* Beginners Superstock 110-125cc
* Novice Open 110-125cc
* Expert Open 110-125cc
Other Events:
May 26, 2009 Bogo Fiesta Honda Bravo Test Ride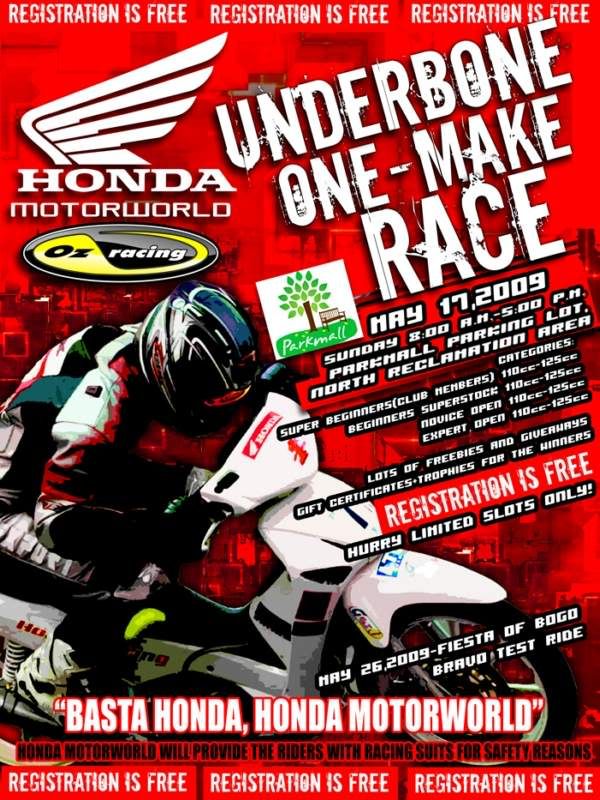 In the Picture below:
Chad Mascariñas - Right(in OZR Uniform)
Alvin Viñalon - Branch Manager Honda Philippines(Left back, blue and black tshirt)
Zandro Fajardo - OZR President(Black Tshirt)
Atty. Bernadino Yu Vega - Area Manager(center in white tshirt with eye glasses,
shaking hands with zandro)
Hector Flores - Chief Finance Officer(In brown barong, right)
Tata Casia - Area Sales Supervisor Honda Philippines(right back in white tshirt
and a honda word printed in the right polo)