By: Arnel B. Santos-Ynigo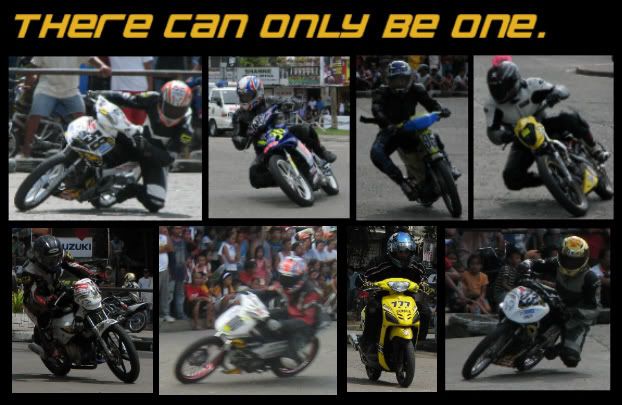 Its 2 more weeks before race day. Two more weeks before history is made.
Who will be the first ever Underbone Circuit Race King of Cebu?
In the expert open Zandro Fajardo of Team OZR has a firm grip on the
crown after a masterful performance in the Danao City Leg. Bobby Mencias
is 2nd in the standings but experienced a lot of problems in the Danao Leg.
Will he stage a rally in the final leg? Veteran rider Jessie Garcia
follows them at third he has been a very consistent rider in wet or dry
conditions. Seth Capuras of WaveX race team is at 4th spot after losing
valuable points during the 4th leg wherein in their bike experienced
critical engine problems. Arnell Fajardo is at the 5th spot after
suffering DNF for 2 consecutive legs. will he rise-up and defy the odds
in the final leg? As for the rest of the pack they have a lot of
catching-up to do.
In the Novice Open Bobby Mencias has a dominating lead over the rest of
the pack. Underbone racing fans better be ready for an explosive finish.
RJ Manlise is at 2nd spot, the versatile rider of Brads Racing Team has
been a brilliant performer in wet or dry race conditions. The 3rd spot
will be a close contest between Jaypee Gado and Robbie Enriquez of Team MAC.
They are followed by Arnell Fajardo and Andrei Ursal in the Rankings.
In the beginner Superstock 110 it will be a tight battle between
Lyndon Requilme of Team MAC and Kenneth Ouano of Team Norkis Yamaha
with only 5 points separating the two. Joshua Abellar is at 3rd spot
but will lose a lot of points after getting the black flag in the
4th leg. The late Reman Collina of Team Pidot is at 4th place but
in his absence Melchor Quirobin or Gary Caneda will take his spot in
the rankings. Team CYRUS has the momentum to topple the riders in
top ranks after a dazzling performance in the 4th leg by Jes Louie Vega
and Keken Cabahug.
In the beginner Superstock 125 Kenneth Ouano of Team Norkis Yamaha
has a secure lead over the rest of the pack with a close to 50 %
difference in points. The 2nd spot is a tie between the late Reman
Collina and Joshua Abellar. They are followed by Keken Cabahug of Team
CYRUS. The rest of the pack have lot of work ahead of them to gain
valuable points to make a dent on the top riders leads.
For the Mixed Automatic Mark Capoy of Team SKutGarage enjoys a
big lead over Seth Capuras of DREI bikes-WaveX. They are followed
by Kenneth Ouano, Lyndon Requilme and Aldren Alivio in the ranks.
Be there for the final leg Nov 22-23 at Kartzone for an explosive
finale of the OZR cup Underbone Circuit Racing 2008.