OZR UNDERBONE CIRCUIT RACING 2008 SEASON - 2ND LEG May 18, 2008 Kartzone Cebu City
HE CAME HE SAW AND HE LAYETH THE SMACKETH DOWN !!!
CEBU CITY has a new underbone KING.
CONGRATULATIONS TO ROBERT PAUL MENCIAS
FOR WINNING BOTH
* NOVICE OPEN ( 110-150cc )
* EXPERT OPEN ( 110-150cc )
IN THE 2ND LEG OF OZR UNDERBONE CIRCUIT 2008 SEASON.
2nd place during the first leg, Bobby Mencias was a man on a mission. the very
next day after the 1st leg race he started right away with the preparations for the next leg.
It seems from the way he opened up the 1st round on the novice open with a starting
wheelie, he would go on to dominate. all his hardwork had paid off.
The Hightlight for the day would be the battle in the expert open. Robert Paul (Bobby) would lead during the start it lead to an all out battle between Zandro and Bobby. After leading for 8 laps it would lead to a crash after close contact during the turns, bobby was not able get to the top 3. But during the the 2nd round Bobby would start again with a bang, he leads the
pack, Zandro 2nd but during the 3 lap Zandro crashes, Bobby leads all the way making the gap bigger from the rest of the pack. But Zandro the defending champion will fight his way again to the top, he got in 2nd during the last 4 remaining laps, but bobby would not be denied, he defends the top position all the way. The crowd went wild. Cebu has a new underbone king for the ( 2nd leg ).
THE BIKE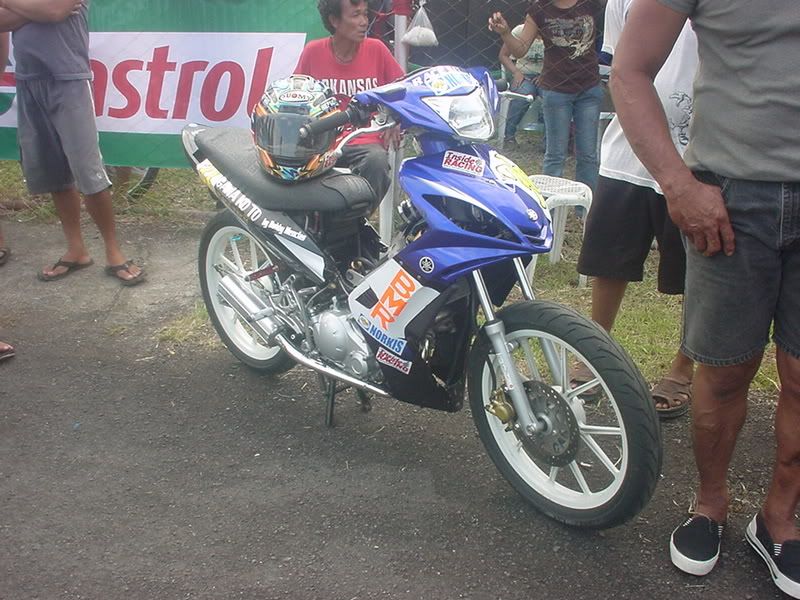 Article by:
stuzz
underbonetuner