Check-out the latest retro inspired scooter from Honda.
Official product launch tomorrow at Parkmall.
HONDA BEAT MOTORCADE Sept.10, 2011 assemble time 2:00pm sharp @ HONDA OFFICE beside waterfront hotel lahug cebu city....motorcade route Lahug - Capitol - Mango Ave. - Park Mall Mandaue
FREE Gas worth 150pesos, FREE HONDA Shirt & Meal
(advance registration sa mu join pls txt your name at 09178626423 Mary Ann)
HONDA BEAT MOTORSHOW CONTEST
... Open to all HONDA BEAT Motorcycle
Dress Up, Customize, Modify pwedi mu join
MOTORSHOW VENUE will be on PARKMALL Mandaue
Invite your friends with HONDA BEAT to join the motorcade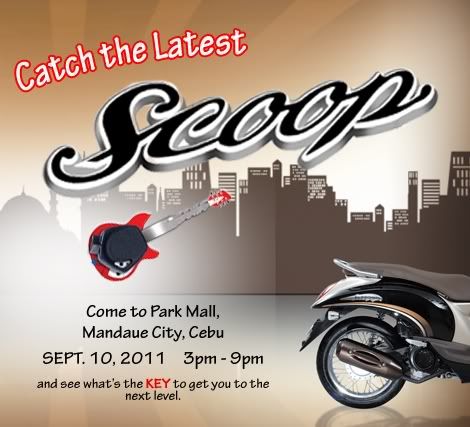 Catch the latest Scoop as Honda Philippines Inc. officially launches the NEWEST Scooter in town.
Come to The Piazza, Parkmall Mandaue City on September 10, 2011 at 3 o' clock in the afternoon.
See what's the KEY to get you to the next level!