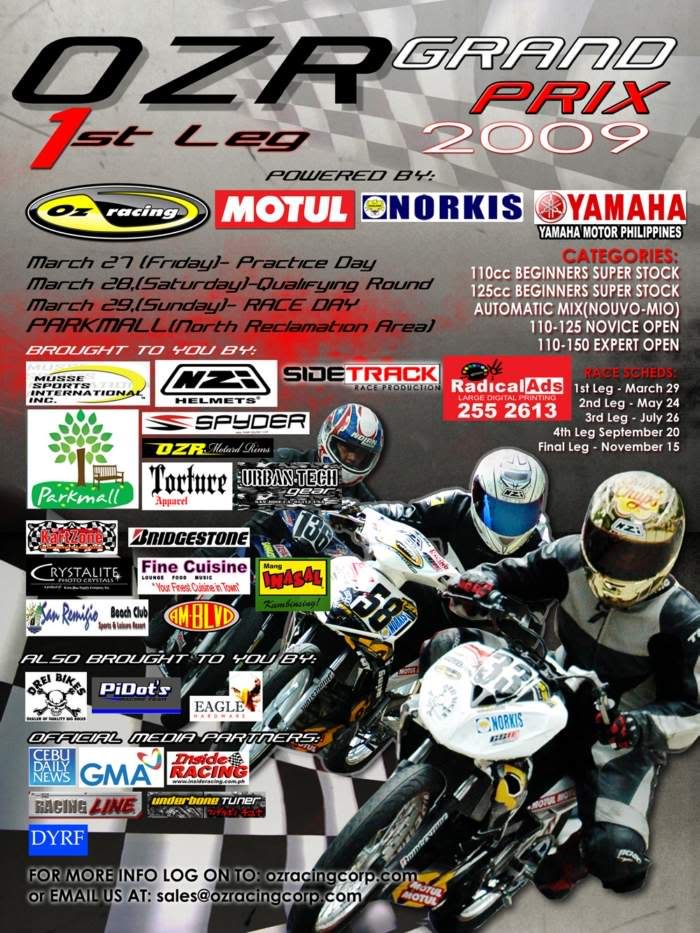 Attention Underbone Racing fans. Brace yourselves as the best riders of
Cebu light-up the race track once more. Be there for the OZR GP 2nd Leg
at Parkmall Mandaue May 30, 2009( Qualifying ), May 31, 2009 ( Race Day ).
Mario Borbon of X-Racing lorded over the begginer category will he score
another double victory in the 2nd leg? Will Moises Munoz of Team MAC
get his shot at the top spot? Keken Cabahug of Team CYRUS is another
strong contender, will he triumph this time around?
Lyndon Requilme of Team MAC dominated the Automatic Open. Will Insik Flores
of X-Racing and Gilbert Miro make adjustments to finally grab the top
spot? Will the 2008 Champ Mark Capoy of SkutGarage stage a furious
comeback?
Gary Caneda of Caneda Racing Team scored a double win for the Open
Categories, will Arnell Fajardo and Andrei Ursal solve the puzzle?
Lyndon Requilme came out strong will he have another breakout
performance?
OZR Corp. President Zandro Fajardo has a new and exciting race track layout
in-store for the participants. A bigger and highspeed race track that
will guarantee intense racing action.
BE THERE AND DONT MISS THE BIGGEST RACE IN CEBU.
OZR GP 2009 2ND LEG MAY 30 and MAY 31, 2009.
Check-out the 1st leg videos below