Honda Motor World and OZR Corp. took time to meet the PRESS this afternoon to promote their upcoming race on Sunday May 17, 2009 the "Honda Motor World and OZR One-Make Race." The Press Conference was held at BO's Coffee Parkmall Mandaue ( 2:00 PM May 15, 2009 ). PRESS from all over Cebu City were there to get the latest developments. ( See Details below )
1.Arnel : UT & IR: Cebu Road Circuit Racing has been going on for over a year now in Cebu. What made Honda finally decide to take part in this kind of sport?
Junnel Borromeo : Honda Motor World : First of all we want to promote Honda Motorcycles and demonstrate it's sporty side. We want to stimulate the market and promote interest by showing Cebuanos the capabilities of Honda motorcycles on the race track.
2.Arnel : UT & IR: Is this event going to be just pure racing or will there be other forms of activities?
Zandro Fajardo : OZR Corp. : I am happy to say that we have a lot of exciting activities this coming Sunday, aside from the 4 category race there will be Honda motorcycle test ride featuring the Honda Beat. There will be a lot of games and prices to be won, lots of Honda and OZR Items to be given away. It will be like a race and bike fest where the riders can take part in the race and really have fun at the same time.
3.Arnel : UT & IR: Is the race open to riders from the OZR Grand Prix? Can Underbone racing fans expect the top riders from OZR GP to join the honda race?
Zandro Fajardo : OZR Corp. : Yes, it is. If they have Honda bikes they can take part on the race. I Think Gary Caneda will be joining this race.
4. Arnel : UT & IR: OZR Corp. has been enjoying great success in promoting and organizing races in Cebu, as an organizer What makes OZR Corp. unique or different from the rest?
Zandro Fajardo : OZR Corp. : First of all we bring a new level of excitement to the race, we have top of the line showmanship on how we present our races through our umbrella girls, the motogp inspired paddocks, podium and basically the overall ambience during race day. Secondly we offer maximum advertising and promotional exposure to our sponsors and provide them with our undivided attention. 3rd We listen to all the suggestions of the stake holders in this kind of event like our sponsors, riders, fans, etc. we strive to constantly improve the quality of our races. For the 2nd leg of the OZR GP we are flying-in race officials from Manila to help us in the race.
5. Arnel : UT & IR: Honda motorcycles have been performing well in the 2009 races, a first place in the SRP dirt circuit and a double win in the OZR GP 1st leg as proven by Gary Caneda on his XRM. Do you have plans of fielding in an all Honda Team in the OZR GP?
Junnel Borromeo : Honda Motor World : As of now our main priority is to generate interest in the sporty side of Honda Motorcycles. We are planning of sponsoring more races to further stimulate the market. As for an all Honda Race Team maybe will think about it next year.
6. Arnel : UT & IR: What can underbone racing fans expect on Race day?
Zandro Fajardo : OZR Corp. : They can expect a lot of action because we have a new technical track layout designed by Race officials from Manila. The umbrella girls will be there, there will be a lot of games and many prizes to be won. It will be a whole lot of fun for the racers and motorcycle enthusiasts.
7. Arnel : UT & IR: OZR Corp. has opened a new branch in Parkmall. What makes it different from all the other OZR branches? Are there special products only available in the branch?
Zandro Fajardo : OZR Corp. : In our Parkmall branch we are trying to target a hip, sporty and trendy lifestyle. An OZR lifestyle you might say. We have new exciting products like URBAN TECH, Skull Candy, Torture Mixed Martial Arts Gear, Skateboarding shoes, Helmets, Boots, swim wear and many more.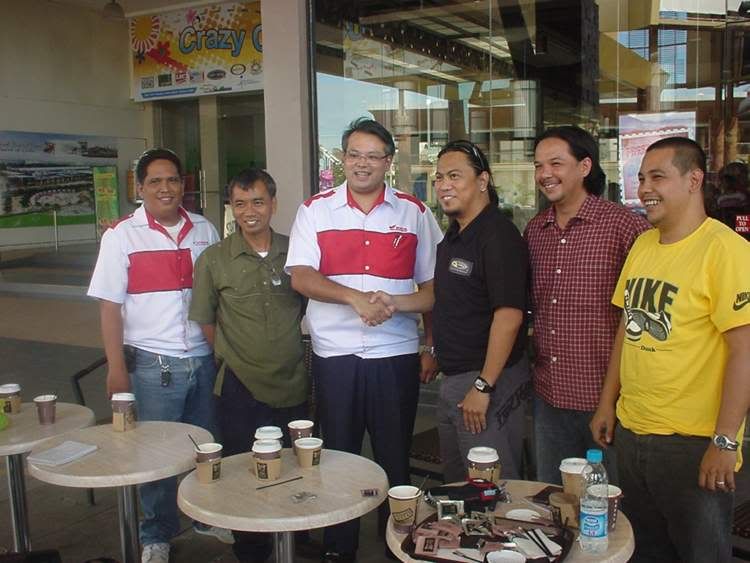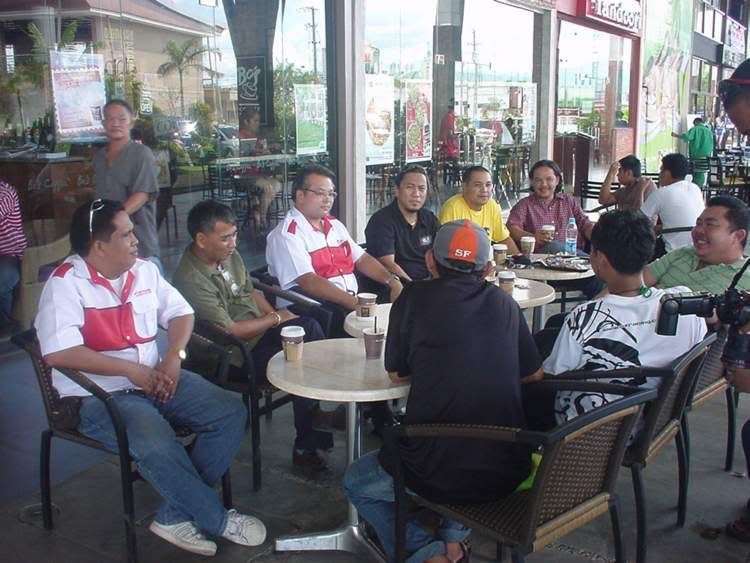 OZ Racing Parkmall