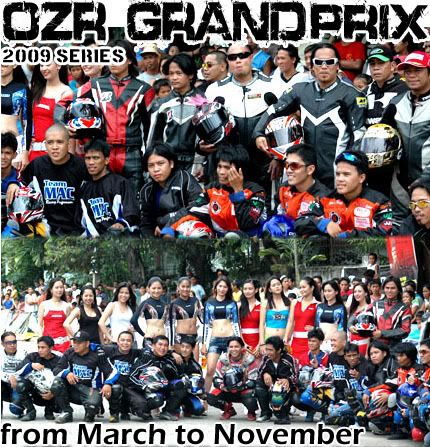 Race day is 25 days away. Brace yourselves as the best Riders and Teams
of Cebu battle it out in the ultimate proving ground for underbone racing supremacy "The OZR Grand Prix 2009".
Invite your friends and family for this two whole days of excitement as OZR Grand
Prix 2009 goes full throttle. The cycle of pure adrenaline begins anew. Its time
once again to get immersed in this maelstrom of pure energy as the best riders of
Cebu collide in the ultimate battle on the race track.
Don't miss the 1st Leg March 28 and 29, 2009 at Park Mall. For more information visit
http://www.ozracingcorp.com
To get your adrenaline pumping early enjoy the 2008 videos below:
Beginner 125 Superstock Final Leg
Novice Open Final Leg
Expert and Motard Open