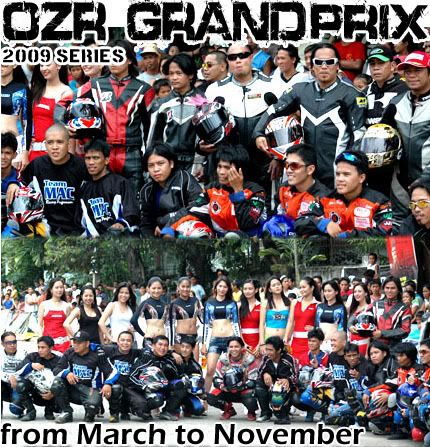 UNDERBONE RULES AND REGULATIONS
DURING THE RACE
* HELMET SAFETY REMOVER IS HIGHLY COMPULSORY (without one you cannot join the race)
* ALL helmets must be in good condition (if helmet is found to be dangerous the
organizer reserves the right to prohibit the rider to join the race)
* Motocross Helmet not allowed
* ONLY Road Helmets/Full-face with lens are ALLOWED provided that they comply
with DOT or ECE standard
* A 5 min. practice run is allowed before the race
* If a rider is called, he is given 60 seconds to respond. Otherwise,
he will be disqualified.
* Any stunts or Acts that would distract or endanger fellow riders will result in
automatic disqualification.
* All riders must wear HELMETS, RACING GLOVES, HELMET SAFETY REMOVER, JACKET,
KNEEPADS, ELBOW PADS, LEATHER BOOTS/HIGH CUT SHOES, and RACING PANTS.
(IF USING RACING JERSEY, HE MUST HAVE A BACK PROTECTOR, KNEE PADS AND ELBOW PADS)
* No changing of Bikes during the race (the same bike should be use throughout
the race)
* After first heat, TOP 3 bikes are subject for mandatory scrutinizing. Failure
to do so will be disqualified.
* In cases where there is a protest against a rider, all PROTESTS shall be done
AFTER the race. (Protest forms will be made available)
* A fee of 5,000php will be charge as protest payment
* Making scandalous acts or any acts that can delay the race will result
in disqualification.
* In cases where the COC needs to decide certain cases pertaining to the race,
all decisions made by the
COC is final.
* 1 Bike-1 Rider Rule applies (only 2 categories is allowed)
PENALTIES
If a motorcycle is found to be "illegal" (not in accordance with the specifications
of the rules), during the scrutinizing, the rider is automatically disqualified
from the race. Entrance fee and any other payments made will not be reimbursed.
=================================================================================
BEGINNER'S SUPERSTOCK 110cc & 125cc
MGA DILI PWEDE;
Big Carbs
Transmission Gearing
Big Bore/ Bore Up
Big displacement
Open air cleaner
Crank shaft
Cams
CDI
Rear Sprocket 34T below
MGA PWEDE
Exhaust Pipe and Muffler Optional: taking off of lenses
Change of TIRES/ RIMS Rear foot Rest,
Rear and Front Sprocket Rear Fender
Chain
Rear set
Suspension- (no Japanese brand allowed/ advance suspension not allowed)
The following items MUST NOT BE altered;
Type of engine, number of cylinder, piston stroke and the valve.
The material and casting of cylinder, cylinder head, crankcase and gearbox.
1.3 The materials of the internal parts of the engines.
1.4 Position of the cylinder head and cylinder relative to crankcase cover.
1.5 The materials, casting and shape of crankcase cover.
1.6 The materials, dimensions and shapes of crankshaft assembly.
1.7 Fuel tank (excluding inlet opening and fuel cock).
1.8 Frame body, rear swing arm.
1.9 Frame body must remain as originally produced by the manufacturer.
1.10 Front Fork and under bracket complete.
1.2.2 The following items may be altered, but must conform to the general specification. (This is for clarification only. Change of specification means modification, changes or removal of the parts.)
2.1 Inlet opening of fuel tank for fuel charge may be modified but cannot be relocated.
2.2 Change of fuel pipe and fuel cork.
2.3 Change of exhaust pipe and muffler, but must have silencer.
2.4 Modification or removal of air cleaner box is not permitted,
cleaner box must be stock.
2.5 Starting device and parts relative to this device may not be removed.
2.6 Removal of speedometer (including meter gearbox and cable).
2.7 Removal of drive chain case and cover. Change of drive chain is allowed.
2.8 Maximum width of rims must be as follows:
FRONT: 1.2 to 1.60 inches
REAR: 1.60 to 2.0 inches
2.9 Modification and change of rear brake pad/lining is allowed.
2.10 Modification and change to brackets and pegs including footrest.
2.11 No Branded suspension allowed (only Malaysia, Thailand, Indonesia made allowed)
2.12 Attachment of stabilizer to strengthen or reinforcing rear swing arm is allowed
2.13 Removal of dust seals.
2.14 However the rear suspension unit is interchangeable with other underbone
motorcycle. Rear suspension spring is free. The internal parts of the
shock absorber can be modified.
2.15 Handle bars, clutch and front brake lever may be changed by an after
market copy.
2.16 Steering dampers may be fitted. They must not act in any way as a
steering lock limiting device.
2.17 Materials of streamlining, shape and material of seat cowling
(However, expensive material such as carbon fiber and Kevlar are not allowed).
2.18 Removal of rear mudguard and side covers. Body must retain original silhouette
2.19 All lubricants are free.
2.20 Adjusting any parts are allowed. (Adjusting is defined as: "To select each
part or assembly complete within the limit of single or total tolerance";
i.e. that of valve clearance, ignition timing, etc.
2.21 Cutting unnecessary stays is allowed (including part of seat-rail).
The following are not allowed:
7.1 Use of special materials such as magnesium light alloy, reinforced
carbon fiber, etc. when modifying or changing parts.
7.2 Light alloy in the construction of front and rear wheel spindle shaft).
7.3 Tires. Slick, hand cut or rain tires are not allowed.
============================================================================
NOVICE OPEN 110cc & 135cc
ELIGIBILITY OF MOTORCYCLE
This class is open to Philippine homologated motorcycles that are 4 stroke (single cam/2 valve) 1 cylinder, underbone configuration motorcycles with the maximum displacement of 135cc
ALLOWED: CDI,
CAMS,
REAR SET,
PIPE
BIG CARBS
NOT ALLOWED: BORE UP
===============================================================================
MIX EXPERT 110cc & 150cc
OPEN EXPERT CATEGORY
ELIGIBILITY OF MOTORCYCLE:
This class is open to Philippine homologated motorcycles that are 4-stroke
underbone motorcycles with the maximum displacement of 150cc
Leather suite is a MUST
Boots
Back Pro
==============================================================================
ADVERTISING ON RIDERS AND MOTORCYCLES
Advertising on riders and motorcycles is permitted, but should first be cleared
with the organizers in order to protect conflicting sponsors of the event, failure
to shall lead to rejecting the entry of the rider and or team to its events.
Advertising is authorized on the helmet so long as the advertising does not alter
the technical characteristics of the helmet. Team sponsors are only allowed to
place their stickers and banners on their designated team paddocks and
motorcycles.
a) Motorcycles
• Entrants and Competitors are not permitted to reject the Sponsors' decal
unless negotiated before hand.
The Organizers reserves the right to remove any decals that not been declared
to the ORGANIZERS.
b) Race and Event Grounds
• No form of advertising will be allowed in and around the race grounds without
the prior written consent to the Organizers. Competitors and/or Teams in breach
of this may face Disqualification.
c) It is compulsory for the teams and privateer riders to avail of the PADDOCKS
provided by the organizers. This is to ensure cleanliness and uniformity.
(Standard rental applies)
Free installation
Free safekeeping
d) It is mandatory for the teams to submit their concept design to the organizers
to be placed as a background on their respective PADDOCKS. (Standard rates apply).
* The organizer reserves the right to deny such designs to be found offensive and abusive to the organizers and to the other teams.
e) No individual tents/paddocks allowed to ensure uniformity of the PADDOCKS.
f) Team sponsor logos MUST be placed only on one side of their respective
PADDOCKS (either left or right side).
e) Team uniform is mandatory.
=================================================================================
SECURITY
Team members, managers and mechanics are advised to secure an ID from the
organizers for them to enter their respective areas.
Only 1 mechanic (per rider), 1 pit crew, and 1team manager are allowed
inside their PADDOCKS (for security reasons).
The organizers have the right to deny entry of relatives, friends and
families inside the PIT AREA.
NO ID –NO ENTRY POLICY WILL BE OBSERVED.
==========================================================================
OZ Racing Corp. conducted a meeting with the different riders and teams
in Manila Food Shop at Park Mall. The event was headed by Chad Mascarinas
Marketing Head of OZR Corporation.