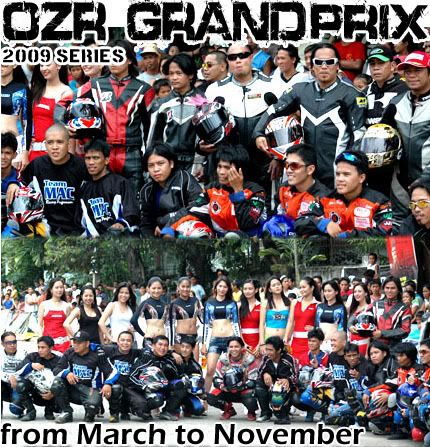 Race day is only a month and a half away and you can already feel the intensity
surrounding this highly anticipated event. The Riders and Teams have been preparing
hard for 4 months as they prepare for battle in Cebu's ultimate proving ground for
underbone racing supremacy "The OZR Grand Prix 2009".
We start off with the Beginner Superstock category which has been dominated by Team
Norkis Yamaha for the first 2 legs in 2008 with Rider Kenneth Ouano but this
domination was later on challenged by Team MAC with ace rider Lyndon Requilme and
Team CYRUS with riders Keken Cabahug and Jes Louie Vega, However on the final leg
all the top contenders were shocked by the emergence of Team X-Racing who totally
dominated this category with their dynamic duo of Mario Borbon and Moises Munoz who
won both superstock categories for 110 and 125. It should be pretty interesting to
watch them grind it out on a full racing season. This category is open to all
underbone enthusiasts who believe they have what it takes to succeed on the race
track onboard a stock bike. No Engine modifications are necessary, only the race
pipe, tires and rear set upgrades are allowed.
Another Team to watch for is SkutGarage from Danao City with rider Mark Capoy who
seems untouchable on top of the mixed automatic open, so far he has finished all his
races in dominating fashion leaving the competition far behind at the length of half
the race track. Come 2009 who will be the brave soul who would go on to challenge
his reign on top?
In the Novice Open Bobby Mencias of Team BMR-Norkis Yamaha is set to defend his
crown as King of the Novice Open. Ever since his rise to the top on the 2nd Leg of
2008 Season the "Blitzkrieg" has dominated the competition taking 2nd, 3rd and 4th
Leg by storm. However with the emergence of Arnell Fajardo of Team OZR who totally
dominated the final leg onboard his powerful Yamaha X1R, it will be pretty
interesting to watch on how the other teams will adjust. Another rider to watch for
is Andrei Ursal of DREI bikes with his highly tuned Suzuki Raider 150. Will he
finally get his groove this time around? His 2008 season was marred with crashes and
bike failures. What adjustments will he make for 2009? Other consistent riders on
the top 5 are Robbie Enriquez of Team MAC and RJ Manlise of Bradz Racing Team, Will
they do something spectacular to shake things up on top?
In the Expert Open Zandro Fajardo of Team OZR is locked and loaded to defend his
title as the Expert Open Champion and Cebu's undisputed Underbone King. Bobby
Mencias is in close contention after bagging 1st place in the 2nd and 3rd Leg in
this category. However Arnell Fajardo of Team OZR after switching to new and more
powerfull bike the Yamaha X1R has stepped out grab the spotlight by asserting
himself in the Final Leg taking both Novice and Expert titles during the 5th leg.
Underbone Racing fans will surely look forward to this battle of epic proportions on
who will take first blood this coming March 29, 2009 as the OZR Grand Prix begins on
its first leg for 2009.
Invite your friends and family for this two whole days of excitement as OZR Grand
Prix 2009 goes full throttle. The cycle of pure adrenaline begins anew. Its time
once again to get immersed in this maelstrom of pure energy as the best riders of
Cebu collide in the ultimate battle on the race track "The OZR Grand Prix 2009".
Don't miss the 1st Leg March 29, 2009 at Park Mall. For more information visit
http://www.ozracingcorp.com
To get your adrenaline pumping early enjoy the 2008 videos below:
Beginner 125 Superstock Final Leg
Novice Open Final Leg
Expert and Motard Open