IMPORTANT REMINDERS:
* Race proper will be on February 21, 2009 @
the South Reclamation Properties (SRP), Cebu City.
* Registration starts at 7:00 a.m. @ the Race ground
* For Participants: Helmets, long sleeves shirt and long pants is a MUST!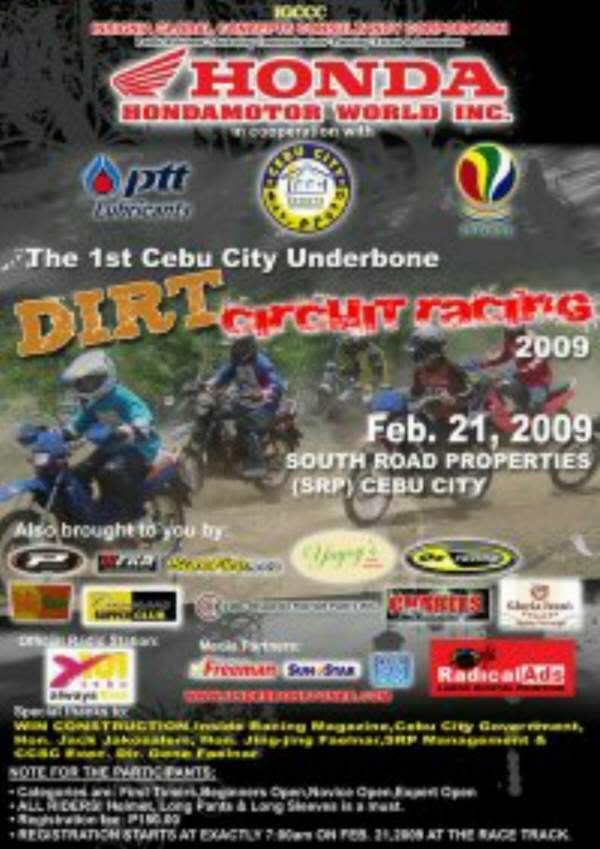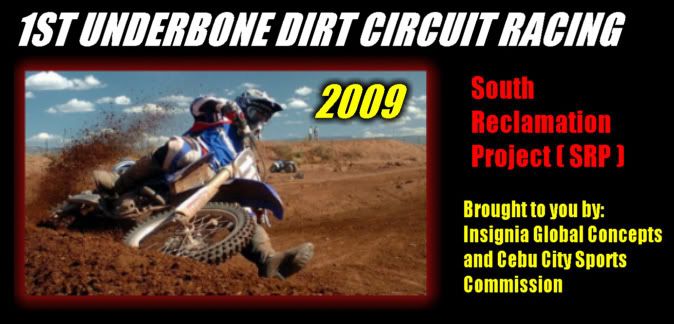 Local, regional and even national motor racing teams have already registered for the
1st UNDERBONE DIRT CIRCUIT RACING 2009 on February 21 at the South Reclamation
Properties (SRP). Underbone teams as far as Davao, Dipolog, Batangas and neighboring
provinces of Bohol, Bacolod and Dumaguette already confirmed their participation.
Event Organizer INSIGNIA GLOBAL CONCEPTS CONSULTANCY CORPORATION (IGCCC) led by its
President and CEO Shane Kintanar said that there have been many motorcycle
enthusiasts who already siginified their intention to participate and some of them
include OZ Racing, Moto fix racing, ERT Racing, X racing, Plasa Boys, Swapang
Riders, Moks racing, Pidot racing, BTR racers, RPM racers, CLR racers, Charles
racing, YRT, Wave X, U bone, Kami Gawa racers, BHERA racing, HERO racing, NOMSA
racing, RBS Team Dipolog and YRT Racing.
Former FIM enduro cross champion and #11 ranked in asia pacific Gene Faelnar,
Director of the Cebu City Sports Commission who is co-sponsoring the event together
with the Cebu City government will lead the motorcycle safety tips seminar on-site
and event presentor HONDA MOTORWORLD INC. will help facilitate consultations on
proper maintenance and repair of motorcycles. The latest models of Honda motorcycles
will also be on display and lots of new merchandises will be introduced. It will
surely be a fun-filled and exciting event as motorcycle products will be unveiled to
the public at reasonable prices.
Registration will start as early as 7am on the event date itself. For those who will
register and compete in the different categories namely first-timers, novice open,
beginners open and expert open, a HELMET, LONG-PANTS and LONG SLEEVES SHIRT IS A
MUST.
The race will be participated by some of the country's top federation Internationale
de Motocyclisme (FIM) riders such as Jon-Jon Adlawan who is ranked #6 in Asia
Pacific, Jovenil Abellar who is #2 ranked in the Philippines and Giovanni Abellar,
also a motocross champion.
This event is presented to you by HONDA MOTORWORLD INC., major sponsor: PTT
lubricants & EVVOLVE, also brought to you by Pro-GRIP, FKR tyres, Surefire Moto,
Yayoy's grill & resto bar, OZ racing, Cassanova supper club, Sizzling Haven, Cebu
Reliance Motor Parts inc., Charles Racing, Gloria Jeans coffee-Ayala. Official radio
station: Y1O1 Cebu, always first. Media partners: Cebu Daily News, Radical Ads,
www.underbonetuner.Blogspot.com. Inside Racing Magazine. Special thanks to WYN
construction, Cebu City government, Hon. Jack Jakosalem, Hon. Jing-Jing Faelnar, and
SRP management.
For more information on tournament registration and participation, you may call
INSIGNIA GLOBAL CONCEPTS at the following
contact numbers: 0922-9453962/ 0915-3459308 or pldt (032) 5168139, look for
Shane or Con-Con.