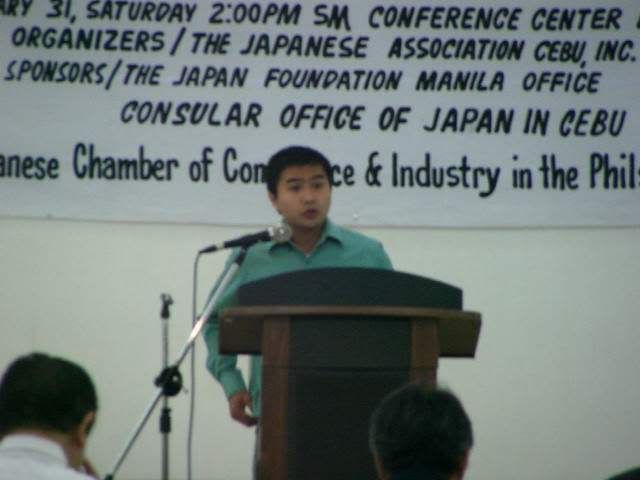 Congratulations to Underbone Tuner's very own Cliffen Lumacao (Lensman and Writer)
for getting Third Place - Non Student Division in the recently-concluded 7th Nihongo
Speech Contest in Cebu.
Stay tuned for his exclusive reports, articles and interviews with the umbrella girls in the OZR Grand Prix 2009.
Check out his winning speech.
JAPANESE VERSION:
さようなら、パパ
By: Cliffen M. Lumacao
、フィリピンのたちはやむをずへきにきます。
しかし、これはもちろんなことはありますがじぐらいのもあります。
私はがいないフィリピンのを見ていて、をうためにでをすることはのの一つでもあるとっていました。
でも、にほかのへきにかなければならないのだろうか、と思います。どうしてみんなのをはなれてでを
しなければならないのでしょうか?
でのをつことはできないのでしょうか?
が6のとき、がはじめてへきました。そのとき、たちどもはは11からは1まで6人です。
うちをるときののりはく、そろってきしたことはでもまだえています。
そのころはのくのがし、のんでいたところのの8がじことをしました。
でもそのころ、さなはきなをもちました。
もしがのになったら、
がをきりにして、ですることをしようとっていました。
しかし、これはただのでした。
はいま24になりましたが、まだのにはなっていません。
しかし、でくことがなぜやらなければなりませんかはわかってきたがします。
ただ、がいないでったどもたちは いったいどうなるのでしょうか?
がでいたおで、おのはなくなりました。しかし、のいないはそれのしみをじました。
でもれられないあるのでした。がってから、はみでへりました。そのときのは、のことをだといま
した。
あなたはだれ?"のがきました。もうのは、どうしてみんながあなたにってんでいるんです
か?"ときました。
は、おさんだよ。れたのか?"に対して、たちはきながら、おさんじゃないよ。おさんはに
しかいないから。あっちへって!"とえました。
かけて、やっとがたちのであることをけれさせました。
にるさんたちもです。
としてだけでなく、としてのもたさなければなりません。
そして、ほかのもつらいいをします。は、、、そしてにちるたちです。
にはやをするたちもいました。
このように、のプラスは、それのマイナスをもたらします。
おさんは、のとわれています。
がなかったら、は、はどうやってっていられるでしょうか?
はどうなるの? をしませてもいいの?
おさんたち、どうなんですか??
みなさん、フィリピンのは、にこれでいいでしょうか?
ごいただき、にありがとうございました。
わり
ENGLISH VERSION:
Sayonara Papa
By: Cliffen M. Lumacao
Nowadays, Filipino fathers are sometimes forced to work abroad.
However it has as many minuses as pluses.
Looking at families without fathers, I thought of it as a disease;
that leaving home to find work elsewhere was part of their role
as providers.
Yet I often asked, "What does it really mean?" Why do they have to
leave the country to find work? Can't they carve a future for their
family here?
I was 6 years old back then when my father first left us to work abroad.
We were 6 in the family and I was the fourth.
The eldest was 11, and the youngest was only 1 year old.
Thinking how hard it is for us to grow up without a father on sight,
I could not forget how much we cried in each step he took as he walked
away from home carrying his luggage.
The neighborhood was so sad in the days that followed because almost 80% of the
fathers were doing the same thing. After the mining company in our barangay was
shutdown, a lot of individuals were left jobless with a family to feed.
At that young age, my skepticisms stopped by convincing myself that if I grew
up and become the president, I will not allow any father to leave his children
because it is really lonely and sad at home without a father.
But that was just a wish.
Now I am 24 years old but I did not become the president of the country.
Now, I begin to understand why working abroad is becoming an increasing and
unquestionable option.
But I cannot neglect asking myself: What kind of adult will result from children growing up without fathers at home?
As a positive result, we used to be financially stable but somehow we grew up
with more adjustments in the absence of a father.
We even experienced some emotional hardships.
I could not even forget the first time my father came back after a year for
vacation. My two younger sisters did not recognize him, seeing only a stranger
walking inside the house.
"Who is he?" asked the little one.
"Who are you and why does everyone seem so happy to see you?"
the older one asked.
"Don't you recognize me? I'm your father."
"Please go away and stop dragging us. You are not our father;
our father is just in the picture." cried both of them.
It took three days for him to completely win their hearts.
When men migrate, the wives left behind assume more responsibilities
with their dual roles as fathers and mothers.
Looking at the neighbors, children left behind painted a pessimistic perception.
Some children grew up as drug addicts, including my brother.
Some are spending their nights on the streets, some are wasting their times
gambling, while some were juvenile delinquents ending up in jails.
A few ended up as teenage parents.
Some married at an early age.
Many stories, rumors, and speculations circulate about philandering wives,
spendthrift and wayward children.
Working abroad is not good at all, because negative possibilities abound for
the families left behind.
It is said that a father is the foundation of the family.
But how will the children be raised without the foundation?
What kind of adult will result from children who will grow up without a father?
How do children view their father's departure?
What about the wives left behind?
Fathers of the Philippines, will we just remain this way?
Is this the inevitable fate of the Filipino family?
Thank you very much for listening.
END