1st UNDERBONE DIRT CIRCUIT RACING 2009 KICKS OFF ON CEBU CITY'S CHARTER DAY
CELEBRATION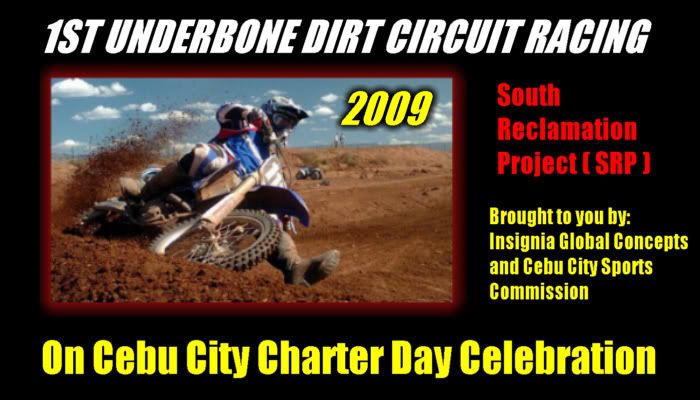 INSIGNIA GLOBAL CONCEPTS in cooperation with CEBU CITY SPORTS COMMISSION (CCSC) and
the CEBU CITY GOVERNMENT recognizes the excitement of the upcoming 2009 HUDYAKA SA
BARANGAY with a once in a lifetime event dubbed as "The 1st Underbone Dirt Circuit
Racing 2009"on February 21, 2009 at the South Reclamation Properties (SRP) Cebu
City.
Seizing the opportunity is one of IGCC Corp. maxims, and because of this, we have
contracted some of the finest riders/racers from different regions in the
Philippines for a unique concept in mind: to make them part of a very prestigious
and one of a kind event. Basically, the concept will feature the Philippines' best
underbone riders and trendiest underbone motorcycle units. Underbones or Underbone
Motorcycles are a class of small motorcycles (also known as mopeds in Western
countries) that are halfway between true scooters and motorcycles. This vehicle is
very popular in East Asian and South East Asian countries especially in the
Philippines for their low cost, handling performance, reliability and fuel
efficiency.
Also, motorcycling safety guideline clinics and technical set-ups including the
basic "how to's" in the maintenance and repair of motorcycles will be highlighted in
support of the mission-vision of Eugene Faelnar Jr., Director of the Cebu City
Sports Commission which is to encourage Cebuanos to become responsible motorcycle
drivers. This will be the very first live underbone racing event in the region with
tri-media coverage. We are inviting everybody to be there. This affair is open to
the public.
For more information on tournament registration and participation for motorcycle
enthusiasts, you may call INSIGNIA GLOBAL CONCEPTS at the following contact numbers:
0922-9453962/ 0915-3459308 or pldt (032) 5168139 ( look for Shane or Con-Con
Kintanar.
INSIGNIA GLOBAL CONCEPTS CONSULTANCY COPRPORATION is a Cebu-based consultancy firm
that specializes in assessing, improving and implementing marketing plans and
communication strategies for local, national and international companies, promoting
persons, products, services or events. IGCC is headed by its President and CEO Shane
Kintanar together with Con-Con Kintanar, Corporate Treasurer/Chief Operating Officer
for marketing and Press Relations and Zachary Selma, Corporate secretary/Marketing
Director. (PR)