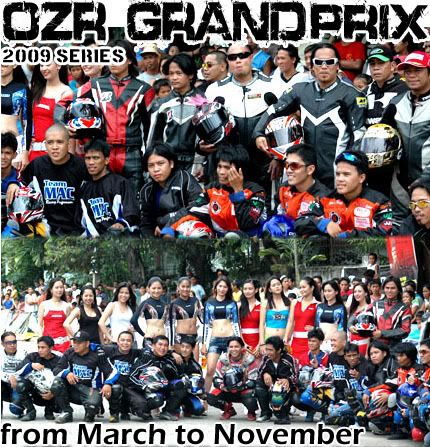 If you think the OZR 2008 Season was off the hook then you ain't seen nothing yet.
Brace yourselves for a bigger and a much more explosive racing event that only
OZ Racing Corp. can bring. Don't miss the 1st Leg as OZ Racing opens the 2009
racing season with a bang with back to back events. Starting off with the 1st Leg
of the OZR Grand Prix ( Race Proper ) together with the OZ Racing Bike show at
Park Mall in Mandaue City reclamation area on March 29, 2009.
Who will be the Underbone King of Cebu for 2009? Zandro Fajardo is on top of
the list after his masterful performance during the 2008 season bagging the Season
Championship for the Expert Open. Bobby Mencias follows him on the second spot
after a brilliant season taking the Novice Open Season Championship and coming
in at 2nd runner-up for the Expert Class. Who will triumph in this much awaited
rivalry? A lot of new exciting teams and a lot of new exciting riders have
come-up for the 2009 Season. Who will reign supreme? Will the battle hardened
veterans continue their domination or will the up-coming riders prove to be too
skillful to contain. Aside from the race there will be a bike show inside the
mall where the hottest custom bikes of Cebu grab the spotlight as motorcycle
enthusiasts of Cebu gather up to showcase their prized rides.
Don't miss this pulse pounding event as the best riders of Cebu light up the
track once more for the OZR Grand Prix 2009 - First Leg and the hottest bikes
take center stage for the OZR Bike Show.