The date is November 23, 2008. The venue. Kartzone Racing Circuit, Panagdait
Mabolo, Cebu city. The exact time was 10:03 pm. Zandro Fajardo is crowned
the 2008 OZR Underbone King. I dedicate this gallery to my friend and
foe (in the racetrack) Zandro, who i sometimes call "dro".
Thank you for your undying efforts in promoting the motorcycle sport here
in cebu. You have been constantly organizing motorcycle racing events
since 2003. The other participants in your series are also extending their
heartfelt thanks for your unparalleled efforts in promoting this motorcycle
sports activity.
Three Days before the 3rd leg, Zandro Fajardo had an accident when testing
his KTM525 Super Motard at Kartzone. He suffered bruises and had 16 stitches
on his right arm. Not to disappoint his legions of loyal fans (majority of
them are girls...hehehe), Zandro, being a true warrior, never let his injuries
stop him from achieving his ultimate goal. He battled his way from mid pack
to the 1st runner-up position beating veterans Seth Capuras, Andrei Ursal
and Arnell Fajardo earning 20 valuable points to mainain his firm grip on
the championship points lead. Thus the OZR motto "NEVER MISS A SINGLE RACE".
The Danao leg was a ZANDRO FAJARDO TOTAL DOMINATION. I never got near zandro.
I was plagued with electrical problems, i didn't do my homework, crashed once,
made a pit stop and landed 5th overall. It was an all Zandro Fajardo show.
I'd like to call Danao as a Zandro Fajardo country because no one was able to trade
paints or bang bars with him. He just made it look so easy finishing the 35 laps.
Well, better luck next year for me.
"He who is "King" has the girls by his side...hehehehe". Girls loves winners...
hates lossers. So you guys out there who want to get the attention of them lovely
girls, you better start practicing to become a winner and be crowned KING, get the
respect of your competitors and admiration of those lovely girls out there.
I'm looking forward for next year in the 2009 OZR Championship Series.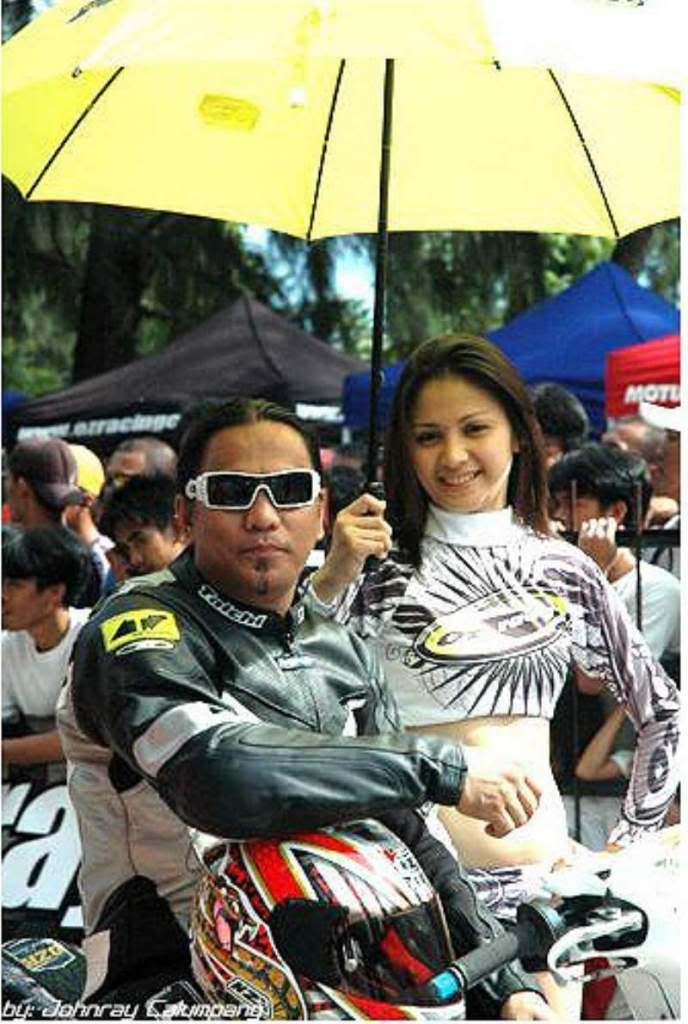 Zandro had a big crash during the Expert Open in the 5th and final leg at the fastest
turn of the Kartzone race track. He did'nt get a good start and was catching up
from 5th place when his front and rear tires lost traction he had to compensate by
straightening the direction of his sniper causing him to crash right into the tire
barriers at the first turn. He was unable to finish the race because he was rushed
to the nearest hospital for observation. It was his first DNF(did not finish) of the
season but despite that unfortunate turn of events, Zandro still won the coveted
OZR UNDERBONE KING title beating me by nine points. Congratulations Zandro.
You deserve every bit of respect and admiration of every competitor and spectator alike.
Dazed but still wanting to finish the race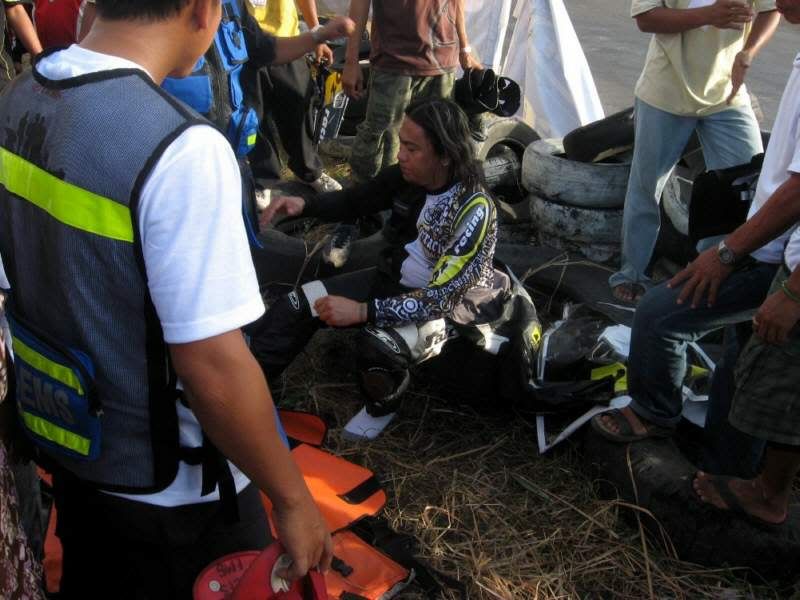 Underbone racing fans rush to Zandro's aid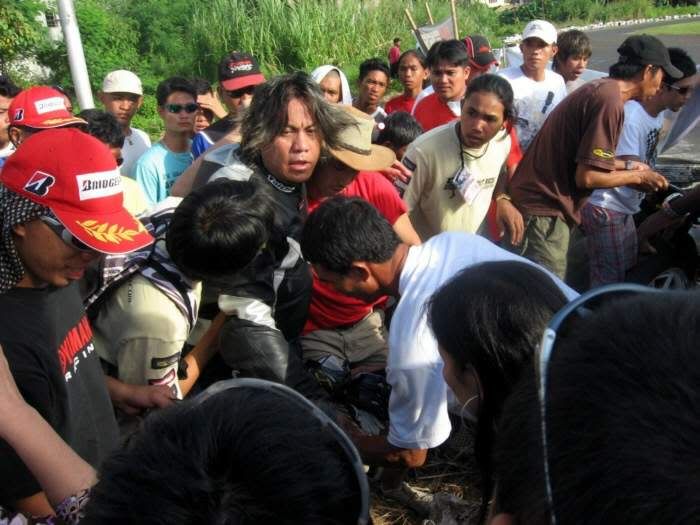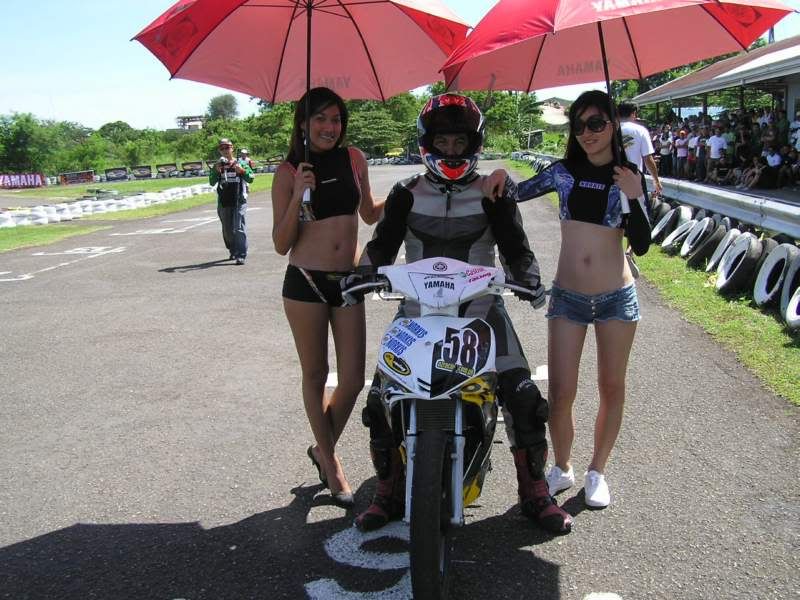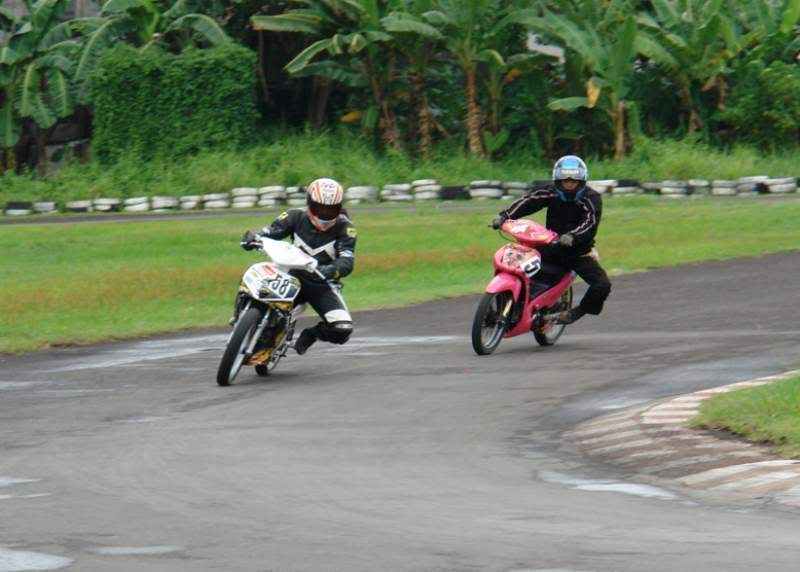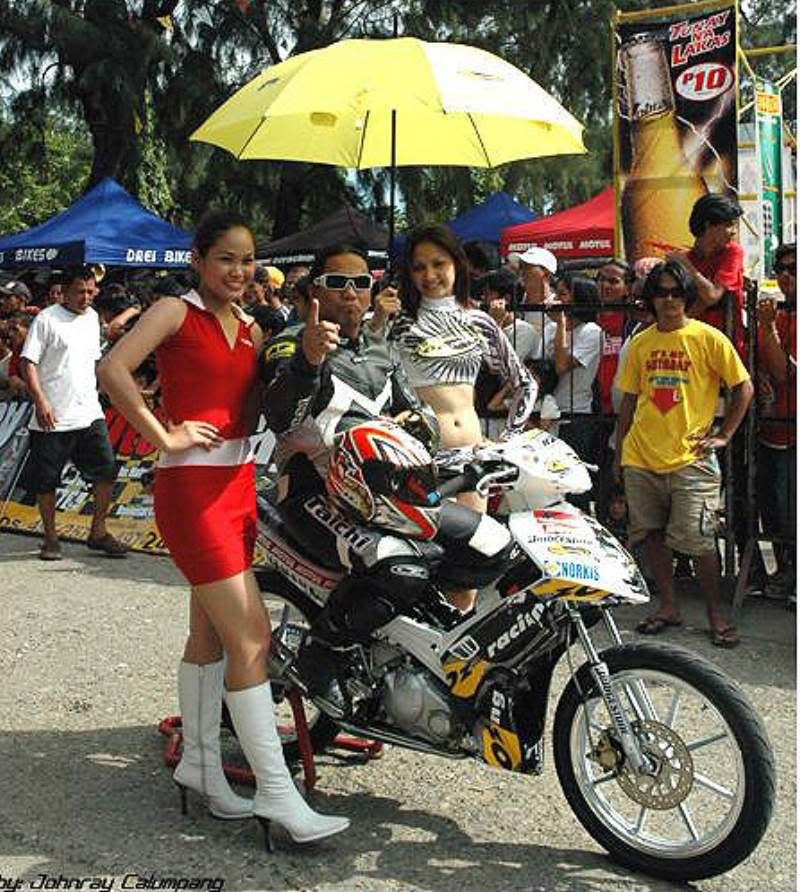 The podium in danao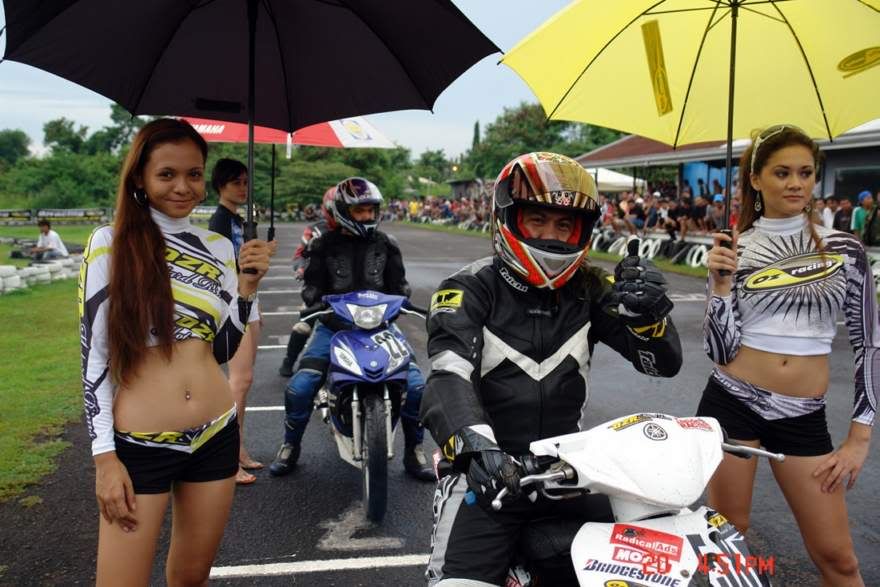 The intense action between Zandro Fajardo and Bobby Mencias always brought the crowd on to its feet.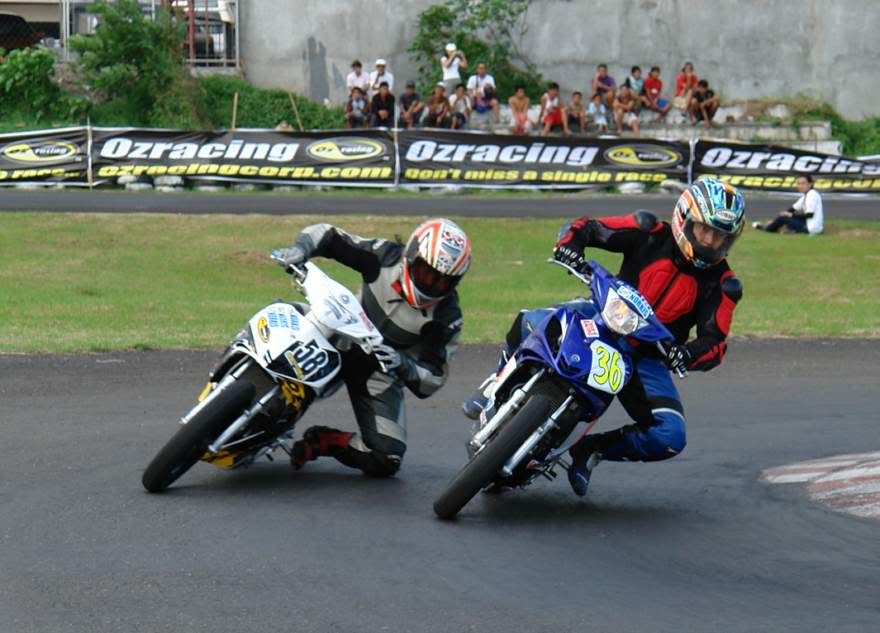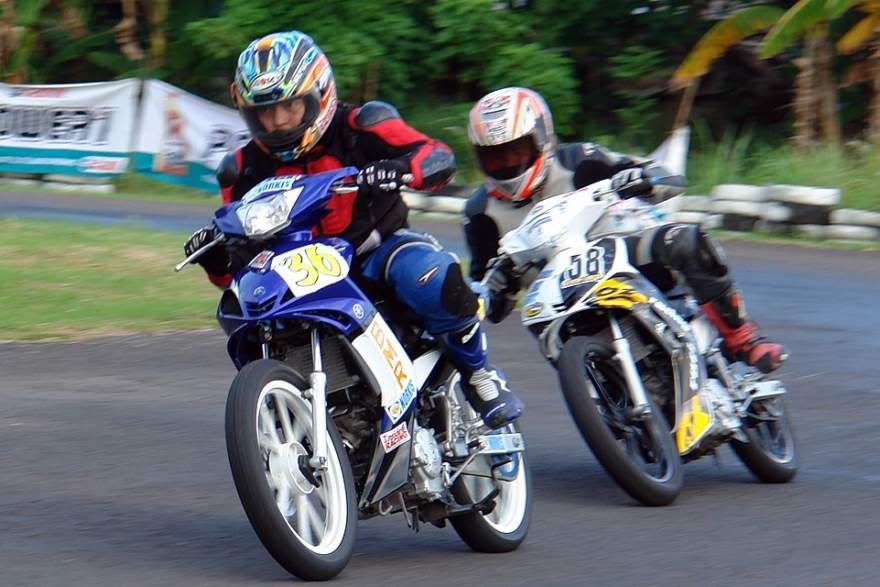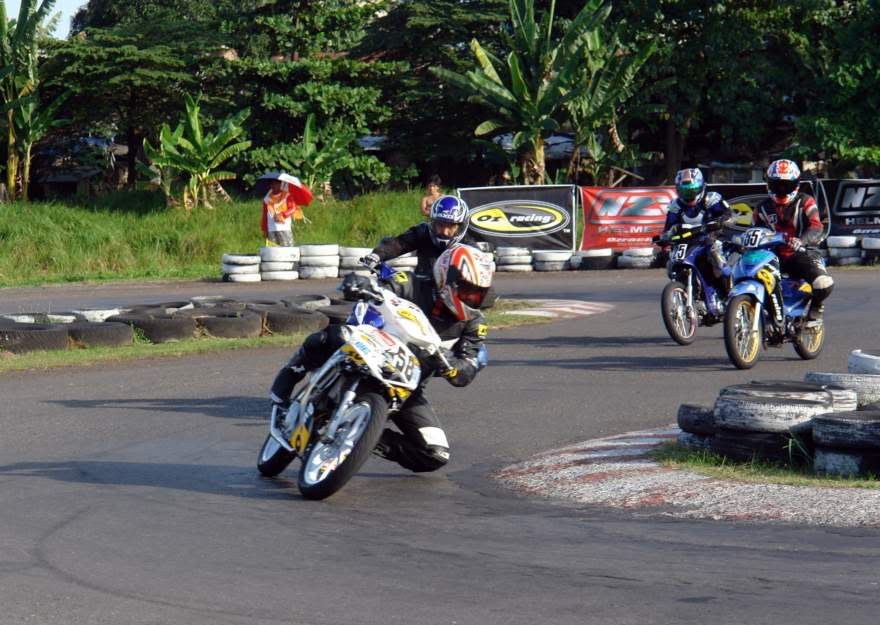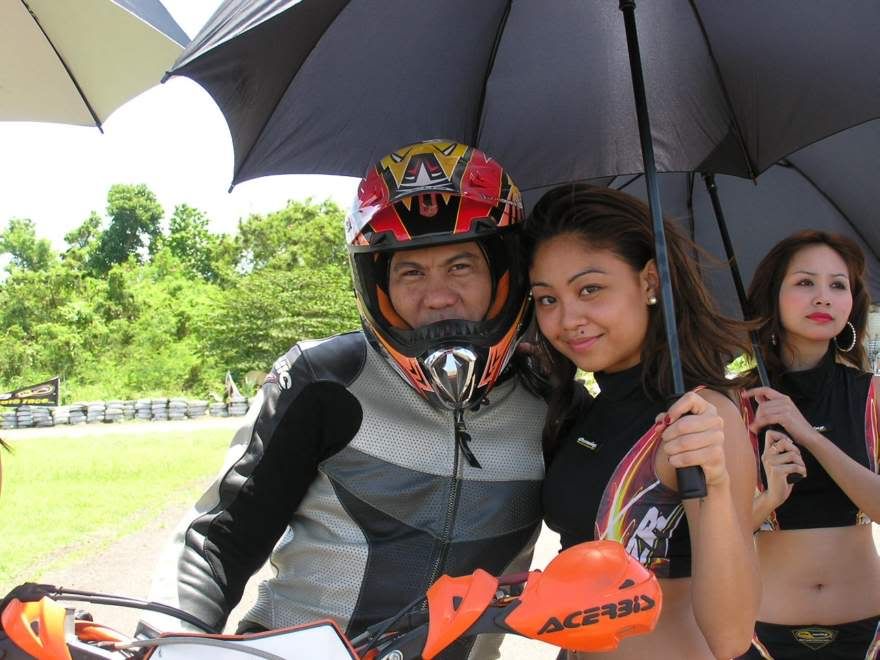 A few years back Zandro Fajardo with Spark Ortille and Bobby Mencias