The Importance of Breather Systems for underbone Race Engines.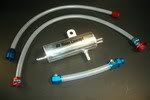 A tuned underbone engine undergoes at lot of stress and pressure than
stock condition. The common pitfalls of newbies is they do not
consider the additional parameters involved like more pressure in the combustion
chamber or higher temperature levels for the engine. Having a bigger piston
( last bore ) on a 110cc engine, dramatically increases the stress demands on the
engine, this in turn increases the wear & tear and structural demands on your machine.
To make things easy just imagine containing a fire cracker explosion within a small can,
a lebintador might not affect it but if you put a super lolo, it will rip the can to shreds.
Thats the same effect it does on your engine. The bigger the piston, the bigger the bang.
So how do you compensate for these additional demands on your engine?
First we have to learn about "blowby" all four stroke internal combustion engines
produce at least some amount of "blowby" due to the relatively high pressures occuring
in the combustion chamber during the compression and power strokes of the engine while its
operating. While the piston(s) is/are normally reasonably well sealed by means of their compression
and oil control rings, there will nevertheless always be some compression and combustion pressure
which escapes the combustion chamber(s) past the rings and ring gaps, and finds its way to
the crankcase of the engine.
The turbulence within the crankcase, due to the spinning of the crankshaft and its throw(s)
with the lower end(s) of the connecting rod(s) attached thereto, along with the spray of return
oil from various components in the engine, results in a considerable amount of warm oil vapor being
contained within the crankcase during engine operation. This blowby gas, with its oil vapor byproduct,
must be released from the crankcase in some manner, in order to prevent the blowing out of
crankshaft or other seals within the engine. This is where the breather system comes in.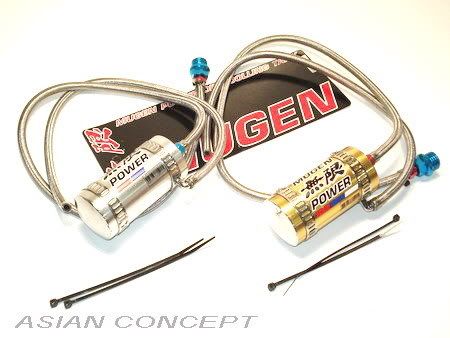 The breather system serves to capture oil vapor which has been expelled from the crankcase along with
blowby gases from the crankcase. The crankcase communicates with the oil catch tank/collector/container by
means of a tube, with the container also having a filtered outlet thereon. Blowby
gases and oil vapor mixed therein enter the container with the relatively heavier oil vapor
collecting in the bottom of the container and lighter blowby gases passing through the filter to exit
to the atmosphere. Oil may be drained from the container periodically by means of a petcock or drain
valve in the bottom of the container. The filter also serves to prevent unfiltered air from entering
the system when the engine is shut down.
So before you rebore to get the big D, dont forget what happened to the can. Invest first
on a good oil breather system.
by: Underbone Tuner
Images from:
Asian Concept Co., Ltd. : Tel (66)32.321.614 Fax (66)32.310.814
Sources:
Motorcycle depot